EnPro Engineering- und Produktionsgesellschaft mbH
A Heinrich Rönner Group Company
EnPro was founded in 1998. For over 20 years we have been planning, designing and manufacturing individual components, plants and systems for ship and yacht building as well as for plant and mechanical engineering.
Customers from all over the world appreciate the high quality and reliability of our services. Our highly qualified staff, consisting of engineers, technicians and specialists, have many years of experience and extensive specialist knowledge in the fields of mechanical engineering, plant engineering, electrical engineering, manufacturing and shipbuilding technology.
The consistent combination of engineering and production makes our company a unique, cross-sector supplier for components and turnkey plants and systems from a single source.
EnPro Engineering- und Produktionsgesellschaft mbH
Riedemannstr. 3
D-27572 Bremerhaven
Phone:
+49 471 98406 -0
Fax:
+49 471 98406 -112
Email:
enpro@enpro-bhv.de
Recent
NK Stahlwasserbau carries out maintenance work on bridge inspection vehicles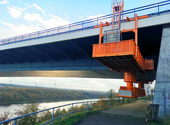 The bridge carriages were dismantled back in 2019 and temporarily stored in Rendsburg for analysis.
Read more